Originally Published in Main Street Magazine's September 2020 issue.
In 2020 it's hard to imagine interiors without the modern influences of clean architectural lines and modern minimalism. The goal of decorating homes with antiques should not be to deny the present and categorically exclude modern design elements. The key to conceiving timeless interiors in this day and age lies in discovering a balance through contrasting textures, cohesive color palates and a harmonizing mix of modern minimalism and classical maximalism.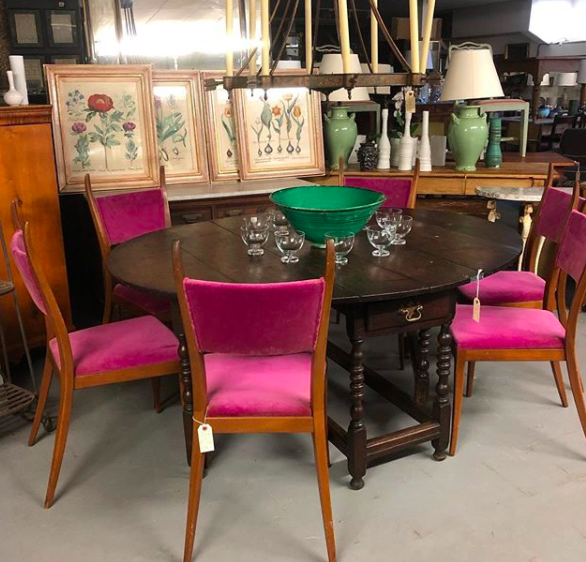 In this photo we see how the antiques dealer (Dana Rohn of Montage Antiques in Millerton) splurged on color and texture with the set of dining chairs which corresponds well with the more subtle and conservative dining table. Rohn, however does not allow the original fuchsia velvet upholstery on this set of Harvey Probber dining chairs to overpower the other elements of the vignette. By setting them together with this early English oak gate-leg table, she brings out the richness of the dark waxed wood as a graceful foil to the fuchsia upholstery. Her use of simple yet elegant glassware and pottery prevent the ensemble from becoming too busy.
To make this design process easier, start by choosing one piece, early in the process, to make other decisions off of. Browse local antique shops, or your favorite online retailer and find something you can fall in love with. Once each room has a statement piece that you cannot live without, choose objects and designs that relate well to it.